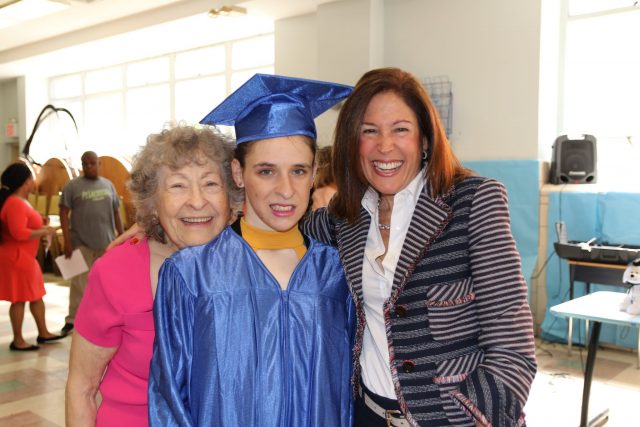 One of the graduates, Emma, with her family.
Three students of The HeartShare School graduated on Wednesday, June 27th. The HeartShare School aims to meet the educational needs of children ages 5-21 diagnosed with intellectual and developmental disabilities, with a focus on autism. Many students, families, and teachers of The HeartShare School attended the ceremony in celebration of the graduates' accomplishments.
The graduation was dedicated to Emma Bachman, Melissa Destin, and Kariana Barrios, who have been enrolled in the special education program since they were children. After several years of educational services, including speech, occupational, and physical therapies, as well as classes in art and music, these graduates have progressed and grown. "Our graduates had a set of goals and stuck to them.  They've achieved so much, not just academically, but have matured into young adults with a desire to live life to its fullest," said Sharon Toledo, Director of The HeartShare School.
The HeartShare School choir sang three songs at the graduation ceremony. After diplomas were presented to the graduates, the faculty put on surprise performance. They created a graduation parody of "Single Ladies," by Beyoncé, and provided lyrics to guests so that they could all sing along.
Teachers Mary Nashaf and John O'Connor spoke fondly of the graduates. "This is a great day for Emma… It's a little sad. We're all going to miss her," shared John. "They have made so many relationships here… So many memories," said Mary about Melissa and Kariana.
"These students have successfully completed a short part of their journey through life, and now they are beginning another… Good luck Emma, Melissa and Kariana. Grab all the best that life has to offer and know that The HeartShare School will never forget you!" said Sharon Toledo.
When students graduate from The HeartShare School at the age of 21, they often transition into day habilitation programs or secure a spot in a residential program. The HeartShare School helps with this transition, and HeartShare Human Services offers habilitation and residential programs of their own.
To learn more about The HeartShare School and its services, please visit www.theheartshareschool.org.