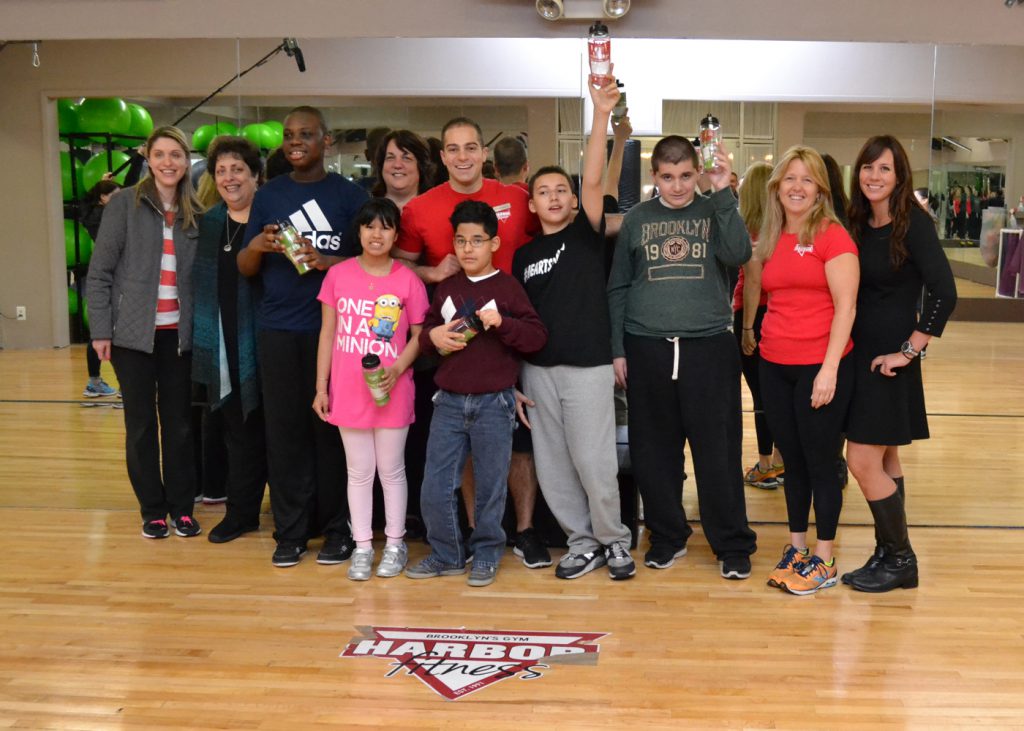 Twelve students from The HeartShare School who are diagnosed on the autism spectrum attended a fitness class at the Harbor Fitness gym in Bay Ridge, Brooklyn. Personal Trainer Anthony Carucci customized the exercise routine for the children.
In recognition of Autism Awareness Month, students from The HeartShare School were taken on a tour of the gym and provided with one-on-one guidance as they explored treadmills, stationary bicycles and even a trampoline. Following the tour, the students jumped right into an aerobics routine, including stretches, jumping jacks and push-ups. "I wanted to teach the children a routine that they could use at any time. With these fitness skills, the kids can take action to pursue a healthy lifestyle on a daily basis," noted Mr. Carucci. Studies show that due to the social, behavioral and motor difficulties that they face, children with autism are at risk for physical inactivity.
HeartShare provides educational, therapeutic, clinical and recreational resources to ensure that the children in its care fulfill their greatest potential. "HeartShare is focused on providing individualized learning and therapies matching the needs of the child. However, we also continue to stress the physical and social benefits of fitness for children diagnosed with autism," stated Ms. Carol Verdi, HeartShare's Vice President of Education Services. In addition to reducing the risk of obesity and heart disease later on in life, physical activities for children with autism are associated with reducing repetitive, potentially self-injuring behaviors, increasing attention span and building skills in agility, speed and coordination.
Physical fitness also provides a positive social outlet, where children with autism can learn how to engage in collaborative teamwork and build friendships. Instead of sitting out, kids with autism can get in the game and live a healthier, fuller and more inclusive life in school and in their communities.
"We thank Harbor Fitness for opening its doors to HeartShare children. Today was not only a lesson in healthy living, but also inclusion in the New York community," Ms. Verdi said. Opportunities for inclusion are especially important with the recent CDC report that 1 in 59 children in the U.S. are now diagnosed with autism spectrum disorders.
"Watching the kids respond to instructions and be social with each other and Mr. Anthony, their trainer, was fabulous. My hope is that they take this back to school and work with their gym teachers to keep it up," Ms. Verdi remarked. The fitness class, which was customized for the children's individual needs, provides a blueprint for future exercise routines.
Traditional physical education courses, on the other hand, are not typically sensitive to the needs of children with autism. Students could feel pressure to perform, especially when facing difficulty with motor control or hand-eye coordination. For a child with autism, running or moving with agility, while also keeping track of a ball and other players could be incredibly frustrating and possibly infeasible.
Group Fitness Manager at Harbor Fitness, Jodi Heywood, explained how she developd the idea for the fitness class, "Our gyms provide a variety of classes and personal training, which are customized to the needs and interests of our patrons. Why not do the same for the children at HeartShare?" Ms. Heywood continued, "We decided to do the special class this year because we've worked with HeartShare for many years doing fundraisers for their schools and we thought it was time that the kids come to Harbor Fitness and experience it themselves."
The trainer had as much of a good time as the children. "It was great working with children with autism. It was a new experience for me and the kids did a great job today. I'm looking forward to spending more time with HeartShare students in the future," Mr. Carucci concluded.
The Harbor Fitness Race for Autism, benefiting the HeartShare schools, is on Sunday, April 27, 2014 at 10 a.m. The run starts and ends in front of the Harbor Fitness gym on 4th Avenue and 92nd Street in Brooklyn.